Our fave beauty buys of all time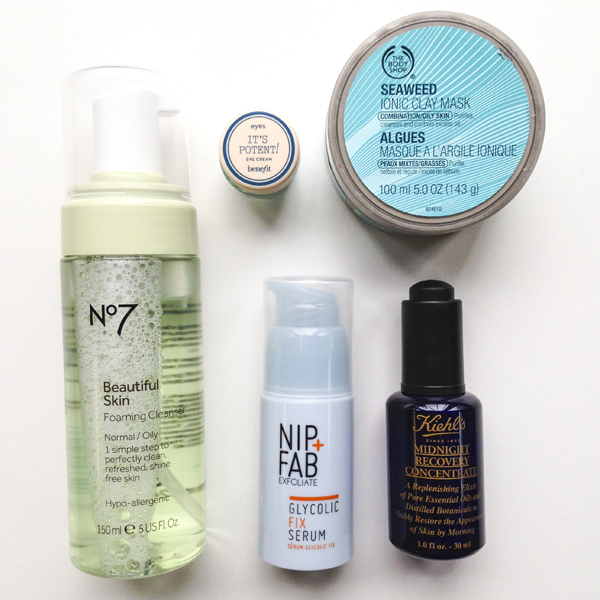 As a bit of a self-confessed beauty junkie, I've been through my fair share of products over the years.Whilst products come and go, I find myself going back to a few, key beauty buys...
No7 Foaming Cleanser for Normal / Oily Skin – RRP £9.50
I have quite an oily complexion, so I spend most of my life trying to mattify. I originally bought this product because I was buying the No7 Beautiful Skin Cleansing Brush (which is amazing BTW – if you haven't got a cleaning brush, then invest in one!) and I needed a foaming cleanser to match. The No7 Foaming Cleaner is probably one of my best investments so far. I've been a religious cleanser and toner user for years now, but my skin has never felt cleaner or fresher than with this beauty buy. Combined with the Cleaning Brush, the day's dirt and pollution is easily lifted, leaving me with a squeaky clean face.   
The Body Shop's Seaweed Oil Balancing Clay Mask – RRP £14
I like to use a face mask once a week, and this is one of my favourites. Helping me fight my oily battle, after only 10 minutes, my face feels smooth, silky and fresh. Seaweed has earned its status as a superfood for skin, hair and health in the last couple of years. Its resilience and restorative ability works wonders for any skin combination. The Body Shop's Seaweed Clay Mask is a thick smooth paste which spreads easily onto your face, after only a few minutes you can feel your skin start to tighten as the seaweed formula starts to work. Once the mask has fully dried, wash it off then finish with a moisturiser and bask in your luminous skin.
Nip+Fab Skin Glycolic Fix Serum – RRP £14.95
This is one of my newest and probably one of my greatest investments. After a spell of spots, I was left with dark, almost scar-like marks on my cheeks and jawline. I was feeling quite down about it and sort out to find a product which would rejuvenate and improve the texture of my skin. The reviews of Nip+Fab's Glycolic Fix Serum were incredible, with one reviewer claiming that she'd saw results after only one application. I'm quite sceptical of quick results, but I bought the product anyway. I can confirm that this IS a miracle worker. After one application, I'd noticed that one of the darker pigmentations had faded drastically overnight and now all of those unsightly marks have nearly gone. This is one product I will never give up, never, ever!
Kiehl's Midnight Recovery Concentrate – RRP £37
This is quite a pricey product, however, a little really does go a long way. A heavy night of drinking takes its toll on my skin, leaving it looking lifeless and dull. I usually massage of few drops of Kiehl's Midnight Recovery Concentrate into my skin and overnight it works wonders, the morning after, I wake up with plump, healthy skin. It's advised that you use the oil daily and you'll see healthier, revitalised skin in 28 days, however, I like to save this product for hangover days to make it stretch that little bit further. Even if you have an oily complexion, don't be afraid of using oils, just be mindful of how much you're using – it's better to start off using a little product then gradually build up.
Benefit b.right It's Potent! Eye Cream – RRP £25.50
When I'm particularly stressed or tired, the, tell, tell signs are the bags under my eyes. I don't tend to use eye creams every day, but when I do the Benefit b.right Eye Cream is amazing. Unlike some eye creams, this formula is really light and non-greasy, making it easy to apply. Again, it's not the cheapest product on the high street, but as you only need a pea-sizes amount, you can make it stretch that little bit further. After a couple of uses, my dark circles are considerably reduced, the formula also claims to smooth fine lines, for brighter, younger looking eyes – I can't confirm that it does the latter, but if you're looking to reduce dark circles then this is for you.   
Everyone has their own beauty regime and it can take years to find a bathroom cabinet full of products which agree with your complexion and skin type. I'd advise you to invest in a few key products – after all, we only have one skin, we need to look after it!